Trending Topic Tuesday – Cole Hamels Inspiration to be a 'Quality Starter' for your customers

We wrote on Sunday about Cole Hamels of the Philadelphia Phillies and business lessons to be learned, and we would like to continue that topic for Trending Topic Tuesday since the baseball world is buzzing with trade deadline talk about Hamels.
Cole Hamels is the hot topic for the week and top prize in baseball's July 31, 2015 trade deadline. This doesn't happen by mistake, Cole has worked very hard and has been a clutch performer in important situations, such as the 2008 Playoff and World Series Appearances, including being named the 2008 World Series MVP. Hamels has earned the accolades and praise, not from one almost perfect day this past Saturday but from many years of perfecting his craft. We should take his lead and apply his dedication and hard works to our own business (many of us do already, but sometimes it gets frustrating waiting 10-15 years to become that 'overnight success' story). Stay Dedicated and Focused!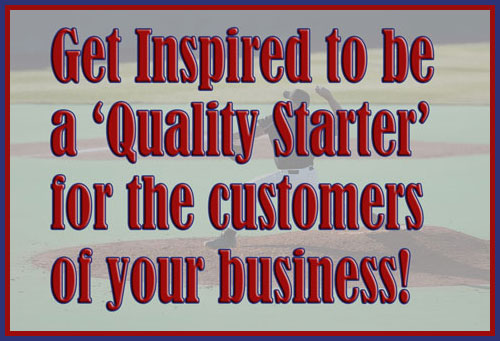 Quality Starts in baseball is a term defined as: a game in which the pitcher completes at least six innings and permits no more than three earned runs. That to me basically indicates consistency and preparation. Cole Hamels has historically had one of the best percentages of quality starts and some long consecutive streaks. I don't know these statistics for the current year but given the fact that his teams defense isn't what it was, his actual statistics this year don't necessarily represent the quality of his starts.
Cole Hamels over his career has been very consistent in quality starts which indicates he must prepare for each team, checking out what batters he will be facing and what their strengths and weaknesses are so he can know come game time which pitches he should throw and when.
Did the no-hitter increase the Trade Value of Cole Hamels?
We posed the question in our previous blog…'The question arises…does this no-hit bid just increase the value the Phillies will get in a trade or does it convince the Phillies that he is too valuable to trade?'
In listening to some pundits they think Cole Hamels will be traded to a pennant-contending team this week and while this one game will not increase his value it does reassure the general managers of his potential new team that even though Hamels has struggled during some recent games, he is still healthy and has all the tools for success when he has a good defense behind him.
Personally I disagree with those pundits, if there was some suspicion that Hamels was not healthy a team looking to win this year would not pay as much to get Hamels, even though they would acquire his rights for another four years I don't think they would give up as much. Once he showed that he can be dominating right now I think he got the attention of a lot of GM's that need that little bit extra this year to improve their odds on winning it all – they would likely to give up more prospects, especially considering they would get four more years from a proven consistent starter.
It should be an exciting week in Major League Baseball, the trades have begun with Cueto, Victorino, Tulowitzky and quite a few others changing teams the races are heating up. As you watch the events in the MLB unfold this week (or hear about them in your quick review of the news while you are busy dedicating yourself to perfecting your own craft), remember to strive towards your own quality start consecutive streak. Prepare so that every day you can add value to the lives of the customers you serve, because to quote Zig Ziglar…You can have everything in life you want if you will just help enough other people get what they want!
Please share this (simply copy and paste into your social media):
"Inspiration from Cole Hamels to make 'Quality Starts' in your #smallbusiness to #MakeBusinessBloom…http://bit.ly/trendingtues "
Tweet your thoughts and additional topics to: @eRoseWeb