Getting Found with Google…Simple as 1, 2, 3?

While Google typically plays it close to the vest on how they determine who gets highly ranked and who doesn't there have been recent disclosures from Google that give good clues for you to optimize your website for a higher Google PageRank.
Keys to Success on Google: Content, Links, RankBrain

Content (Keyword Rich):
Our philosophy at eRose Web has consistently been to focus on quality content first with a mix of relevant keywords to each client's industry and customer focus. It seemed logical that with Google's stated goal of providing the best resources to its clients that this strategy would be the best for small business clients that have limited budgets where spending thousands per month on SEO was not an option. This continues to be one of the best ways in which to keep Google's attention. Google wants to provide the best resources and content so if you have a website that provides quality tips and articles on areas related to your business you should at least be on their radar.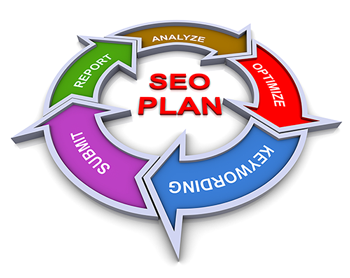 Links (Incoming):
The links we are discussing here are not the number of links you have within your website but instead the number of relevant links from other websites. By relevant links we are talking about links from websites that are related to your industry and not just paying a website with a list of unrelated web links to include your website link, even though they have completely different customers and in a completely different industry.
It is a good idea to make sure any industry organization, affiliates, chamber of commerce, etc your company is a part of has a link on their website back to your website. Ideally using a text link with both your company name and the main keywords you want your site to be found with online. Also ask any vendors you work with on a regular basis if they would be willing to add a link to your website, and/or mention your company periodically (with a link) in their social media marketing.
RankBrain (Google AI):
RankBrain is Google's name for a machine-learning artificial intelligence system that's used to help process its search results, this means basically that the computer teaches itself rather than following detailed programming code.
While RankBrain has been identified as the 3rd most important factor by Google currently, this is only one part of a much more complex search algorithm.
"RankBrain is one of the "hundreds" of signals that go into an algorithm that determines what results appear on a Google search page and where they are ranked, Corrado said. In the few months it has been deployed, RankBrain has become the third-most important signal contributing to the result of a search query, he said."
Source: Bloomberg
Article from SearchEngineLand on RankBrain
Admittedly we simplify things quite a bit in this article, but this is a good starting point for the small business entrepreneur looking to improve the search ability of their website on Google. Google's algorithm is constantly changing but if you make your goal the same as Google, to provide great content and resources, and sprinkle in a little extra strategy from time to time your website should be in good shape to compete for attention online.